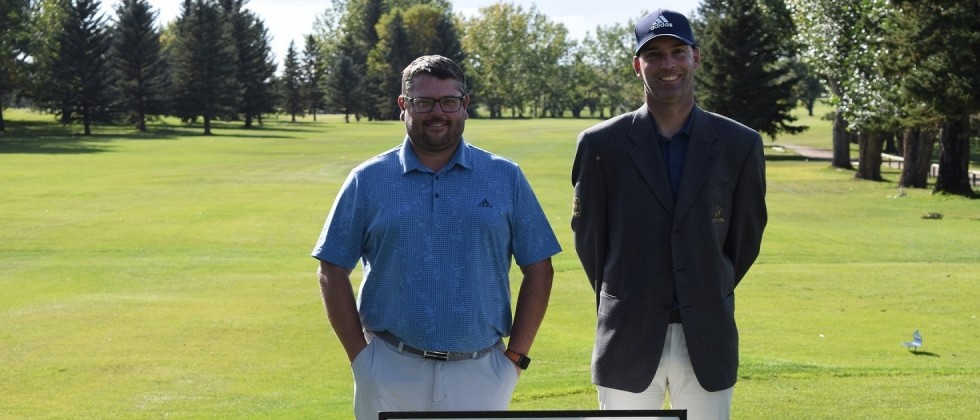 Tournament News
Heffernan Hauls in Last G.S.H Title of Season at Picture Butte GC
After an excellent day of almost summer weather at Picture Butte GC, Wes Heffernan of Dynamic Motion Golf Performance Centre is back to the winner's circle again after another stellar performance today at the last Golf Supply House Series event of the season.
Continuing his excellent play of this season, Wes carded an excellent round today which included a ridiculous 10 Birdies to finish at 7-under 65 and win the tournament by a convincing three strokes. Wes carded 2-under par 34 on the Front-9 and followed it up with a stellar 5-under par 31.

Finishing in a Two-Way tie for Second Place was the likes of: Justin Stoski (Lethbridge CC) and Scott Stiles (Earl Grey GC) after both shooting great rounds of 4-under 68. Justin carded two solid 9's of 34-34 and had 3 Birdies and 1 Eagle today. Scott also went 34-34 and had 5 Birdies on the card today.
Rounding out our Top-5 today, in a Two-Way tie for Fourth Place was: Jeremy Maher (Modern Golf) & Dillon Batsel (Desert Blume GC) who both carded great 3-under par 69's today.
In a Two-Way tie for Sixth Place was: Jonathan West (Carnmoney GC) & Eric Porter (Lethbridge CC) who both carded solid 2-under par 70's today. In sole possession of Eighth Place was: Kevin Black (Redwood Meadows G&CC) who carded a solid Even-par 72 today. Rounding out our Top-10 today, in a Three-Way tie for Ninth Place, was: Tyler Lebouthillier (GOLFTEC Calgary Beacon Heights), Braden Chown (Bearspaw GC) & Paul Bonenfant (Golf Course Marketing) who all carded respectable +1-over par 73's.
Thank you to all our Competitors at this event and over the course of the season.
Special thank you to our Host Facility: Picture Butte GC for helping put on an excellent event.
Special Thank you to our invaluable Sponsor: Golf Supply House who's support helps make our Golf Supply House Series events happen.