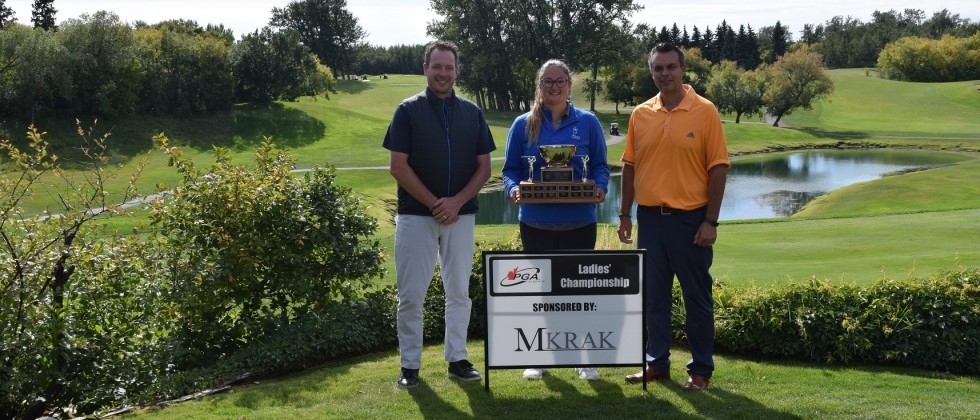 Tournament News
Nelson Neatly Repeats at MKRAK Ladies' Championship
Day two at the The Ranch G&CC Ladies' Championship presented by MKRAK saw a continuation of the excellent summer weather and playing conditions for our competitors today.
Our 2021 Ladies' Championship Champion and our 2020 Defending Champion is none other than Gina Nelson of Magrath GC. Gina came from 1-stroke down on the Leader today to successfully defend her title. Gina finished the tournament at an excellent +6, carding 75 for Round 1 before turning it on today for Round 2 with a 73. She had 2 Birdies on the card today, one of which was an extremely timely Birdie on #18 to prevent a playoff.
In sole possession of Second Place was: Shaye Leidenius (Wolf Creek GR) who continued her noteworthy season and just came up short today. Shaye battled throughout the Championship and finished at a great +7 carding a Round 1 score of 74 and a Round 2 score of 75.
Rounding out our Top-3, in her first season with the PGA of Alberta was: Kate Griffiths (Advantage Golf Academy Inc.) who played two solid rounds of golf over the course of the Championship. Kate carded 77 for Round 1 and 80 for Round 2 with 2 Birdies on the card today.
Congratulations to our Day 2 Skins Winners: Olivia Nickel (Ranch G&CC) with a Birdie on #3, Kate Griffiths with Birdies on #10 & #16, Gina Nelson with Birdies on #11 & #18 and Shannon Werbicki with a Birdie on #13.
Special thanks to our Sponsor: MKRAK
Host facility: The Ranch G&CC