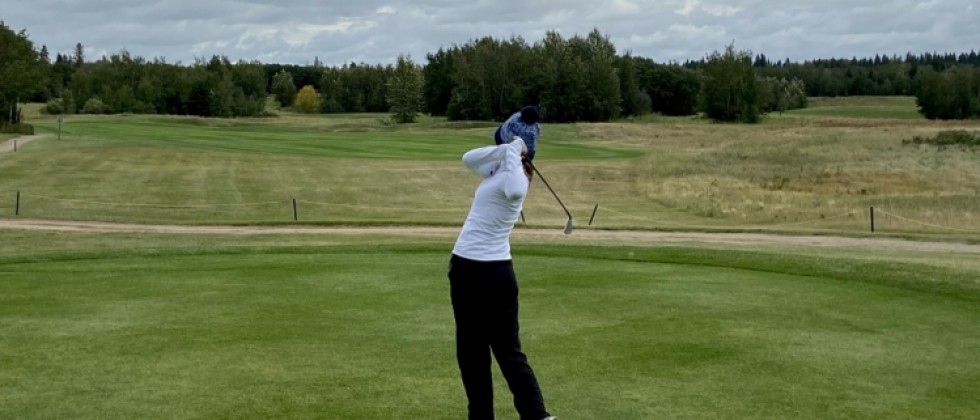 Association News
Haydamack & Kucy Battle the Conditions to Lead at the Junior Masters
After a windy and cool day at the Wolf Creek Golf Resort in Ponoka for the PGA of Alberta Junior Masters presented by Sundog Eyewear & TourTee, Zachary Haydamack of Mickelson National GC in the Boys' Division and Jayla Kucy of Camrose GC in the Girls' Division stood above the rest to hold the lead heading into Round 2 tomorrow.
Haydamack played bogey-free on the front nine and was sitting at 3-under after the 11 holes until making a few bogeys down the final stretch to finish at even par 71. Sitting right behind Haydamack is the 2020 Junior Masters Champion Carter Code (Glencoe G&CC) at 1-over 72. Code will be looking to repeat after winning by 3-strokes last year to win his first Junior Masters title. Five other players sit within 3 strokes of the lead heading into tomorrow at the Old Course.
In the 14 & Under Boys' Division, Peter Hlushak (Stony Plain GC) had a stellar performance today to sit atop the leaderboard in his respective division. Hlushak fired a 3-over 74 today on the Links Course to give himself a healthy 3-stroke lead heading into tomorrow.
In the Girls' Division, Kucy stayed calm under tough conditions today to finish at 3-over 74, giving herself a 2-stroke lead heading into round two. She started the round at 3-over after nine holes but dialed it in on the back nine and played even par golf to put herself in the lead. Right behind Kucy is Georgia Barr (Glencoe G&CC) at 5-over 76 and Aastha Savadatti (Canyon Meadows G&CC) at 6-over 77. Both players will try to put the pressure on the leader tomorrow as they tee off in the final group of the tournament at 10:20am.
In the 14 & Under Girls' Division, Kali Yeske (Valley Ridge GC) took sole possession of first in her division after shooting an 83. Gabrielle Roznicki (Pinebrook G&CC) sits only one back of Yeske with at 84 setting up for an exciting battle tomorrow for the 14 & Under Division.
Players will take their talents over to the Old Course tomorrow (Sept. 3rd) at Wolf Creek GR for the final round and do everything they can to take home the 2021 Junior Masters title as well as their respective division.