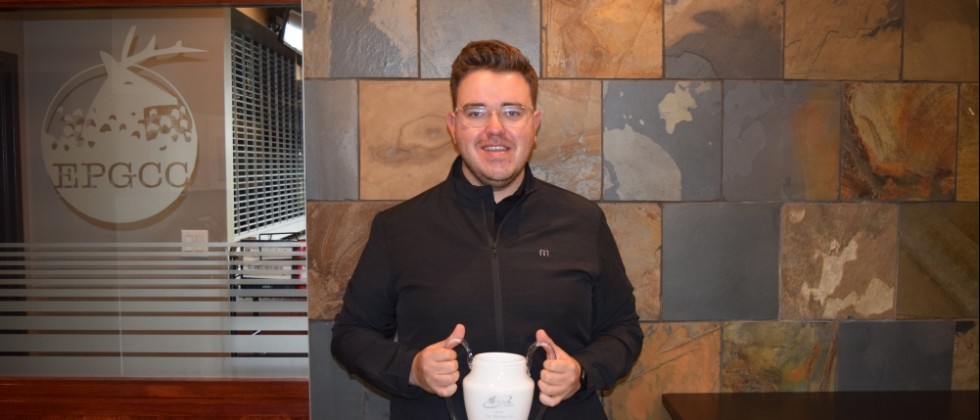 Awards News
Chris Ward Wins the 2020 Top 100 Award
Congratulations to Chris Ward of the Edmonton Petroleum G&CC on winning this year's Top 100 Award as determined by the rankings in the Top 100 Program presented by Foresight Sports Canada! The Top 100 Program is based on pre-defined measurable criteria designed to recognize Members who dedicate their time and demonstrate proven abilities in advancing the Association's interests for the benefit of all Golf Professionals.





Chris had a fantastic year within the Top 100 Program after accumulating 104 points throughout the program year to win by just one point! It was a goal of Chris' this year to win the Top 100 Award and he accomplished that by increasing his point total by 56 overall compared to last year, going from T-19th in the standings in 2019 to winning the title this year.

It was an exciting race for the trophy this year, primarily between Chris and Sean Thompson after going back and forth at the end of the program year trying to secure first place. With the win, Chris prevents Sean from going back-to-back for the award after winning in 2019 and cements himself in the PGA of Alberta history books.
CLICK HERE TO WATCH CHRIS RECEIVING THE AWARD
Cash Prizes...
In addition to the Award winner, the Association is proud to award 10 cash prizes to the top point earners. Members needed to accumulate 76 points or more to earn a cheque this year. Congratulations to the following cash recipients who will receive their prize shortly:
Professional

Facility

Points

Cash Prize

1st
Chris Ward
Edmonton Petroleum G&CC
104

$1,300

2nd
Sean Thompson
103

$1,000

3rd
Jeff MacGregor
Glendale G&CC
95

$800

4th
Josh Fleming
GOLFTEC Calgary Beacon Heights
93

$600

T-5th
Bryce Halverson
Valley Ridge GC
80
$400
T-5th
Dale Tomlinson
The Winston GC
80
$400
T-7th
Dave Henzie
Nanton GC
79
$225
T-7th
Samuel Kirkness
Priddis Greens G&CC
79
$225
9th
Michael Graham
Cottonwood G&CC
77
$150
10th
Alan Carter
Edmonton CC
76
$125
Top 100 Professionals
As part of this program, the PGA of Alberta acknowledges the Top 100 Professionals which are the top 100-point earners for the program year. The 2020 Top 100 Professionals will be officially announced within the next two weeks so stay tuned for more information!

We look forward to an even bigger year for the Top 100 Program in 2021. October is when the new program year begins so stay tuned for more Top 100 news moving forward. Check out the 2020 Standings on the website by clicking the link below.