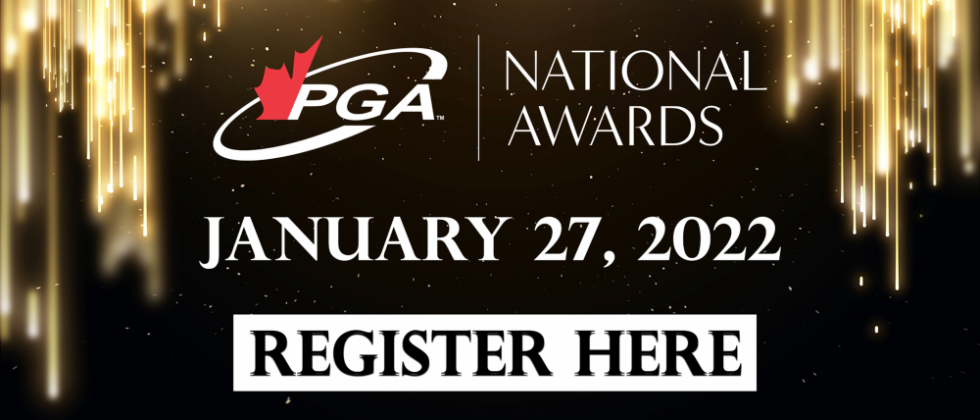 PGA of Canada News
Good Luck to Alberta Professionals at the Virtual National Awards Night
Registration is open for the Virtual PGA of Canada National Awards Night, which begins at 5pm MST on Thursday, January 27th. The Webcast will officially open and will begin running a pre-roll at 4:30pm MST prior to the beginning of the event at 5pm. In addition to the Awards, seven Hall-of-Fame inductees will also be recognized.

"With Bob Weeks and Kayla Grey back as co-hosts, as well as PGA of Canada Class "A" Member Jean-Sébastien Légaré, this event promises to be an exciting evening for all," said Teejay Alderdice, President of the PGA of Canada. "I encourage everyone to join us as we celebrate our esteemed finalists and winners."

To register for the Virtual Awards, CLICK HERE.

Good luck to the following Alberta Professionals up for a National Award. To view all finalists, CLICK HERE.
Chris Schatzmann (

Stewart Creek G&CC

) - Murray Tucker Club Professional of the Year
Patrick Coli (Carnmoney GC) - Dick Munn Executive Professional of the Year
Josh Fleming (GOLFTEC Calgary Beacon Heights) - George Knudson Teacher of the Year
Chris Ward (Edmonton Petroleum G&CC) - Stan Leonard Class "A" Professional of the Year & Tex Noble Professional Development Award
Rachel Wiebe (Windermere G&CC) - Moe Norman Apprentice Professional of the Year
Stephen Yanitski (Valley Ridge GC) - Jack McLaughlin Junior Leader of the Year
Jamie Reimer (Golfuture YYC) - Ben Kern Coach of the Year
Fort McMurray GC (Head Professional - Kyle Corriveau) - Pat Fletcher Retailer of the Year
Katy Rutherford

(Silver Springs G&CC) - Brooke Henderson Female Player of the Year
Riley Fleming

(Lynx Ridge GC) - Mike Weir Player of the Year