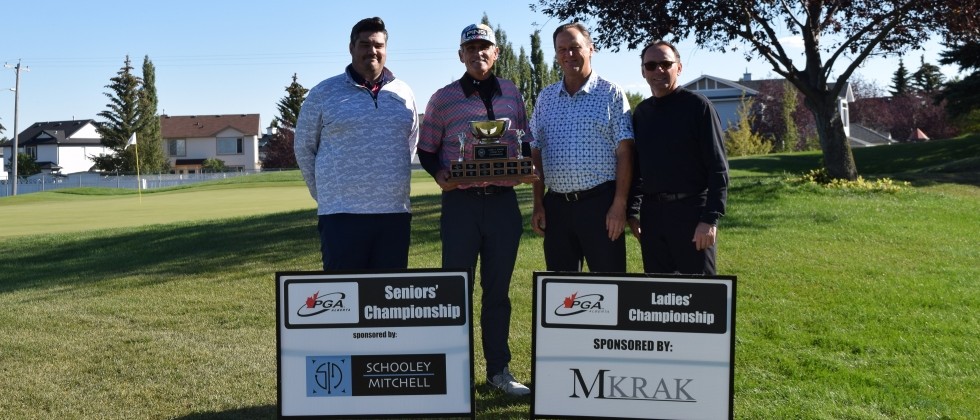 Tournament News
Allred Reclaims Seniors' Championship for 7th Time
Day two at the Lakeside GC Seniors' Championship presented by MKRAK & Schooley Mitchell saw a much needed return to a sunny sky and much better conditions for our competitors.
Our 2022 Seniors' Champion is: Scott Allred (Elbow Springs GC) who carded two excellent rounds to finish at 5-under par overall for the Championship. Scott carded a great 2-under par 69 in Round 1 and followed it up with an excellent 3-under 68 today to clinch the Championship by 5-strokes. Scott had 4 Birdies on the card today and is in possession of the PGA of Alberta Seniors' Championship for the 7th time now in his career.
In a two-way tie for Second Place was: Kent Fukushima (PGA of Alberta Member) & Randy Robb (Mickelson National Golf Academy) who put together two great rounds of golf to finish the Championship at even-par overall. Kent and Randy both finished with Championship totals of: 142.
In Fourth was: Gord Courage (The Hamptons GC) who played two solid consistent rounds of golf carding +1-over 72's each day to finish with a Championship total of 144.
Rounding out our Top-5, in a 3-way tie for 5th Place was: Grant Cammidge (Jagare Ridge GC), Darryl James (National Golf Academy at Shaganappi) & Kevin Day (Billy D's GC) who all played two solid rounds for the Championship, finishing at +3-over par overall with Championship totals of: 145.
Congratulations to our Super Senior Division (60+) winner: Dean Walker (PGA of Alberta Member) who carded two great rounds to finish the tournament at +12 and in solo 13th place of the main Championship division.

Congratulations to our 3 skins winners today: Kent Fukushima with a Eagle on #4, Bob McArthur with a Birdie on #9 & Jason Stanier with a Birdie on #13.

Special thanks to our Sponsors: MKRAK & Schooley Mitchell .
Host facility: Lakeside GC