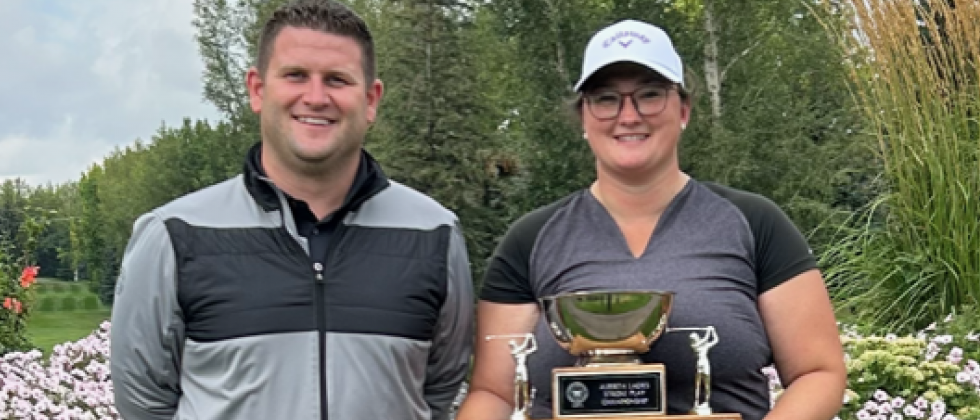 Tournament News
Nelson Reclaims Ladies' Championship Title
Today saw the final round of the 2023 Ladies' Championship at the beautiful Silver Springs G&CC with the course in fantastic shape for our competitors and conditions were overcast but still great for our competitors.
Our 2023 Ladies' Champion went wire-to-wire over two rounds and gets her hands back on the trophy after winning the Championship in 2020 and 2021: Gina Nelson (Highlands GC). Gina played two excellent rounds for the Championship and shot an impressive -3 under par 69 for R2 today. Gina had an excellent blemish free round today, carding a 1-under par 35 on the front-9 and followed it up with a 2-under par 34 on the back-9, with 3 Birdies today to prevail over her nearest competitor by 3-strokes. Gina finished with a two-day Championship total of 143 (-1 overall).
In solo Second Place, last year's Champion, was: Katy Rutherford (Silver Springs G&CC) who played 2 great rounds and finished 3-strokes back from the top. Katy carded an excellent -1 under-par 71 today which included 4 Birdies. Katy carded a 37 on the front-9, followed it up with a 34 on the back-9 and finished with a two-day Championship total of 146 (+2 overall).
Rounding out our Top-3 today was: Marsha Rogers (The Derrick G&WC) who played 2 solid rounds of golf, carding a 79 in R1 and a 76 today to finish the Championship with a two-day 155 (+11 overall).
Congratulations to our Day 2 Skins Winners: Gina Nelson (Birdies on #6 & #11 & #13), Katy Rutherford (Birdies on #2, #15 & #18), Crystal Shapka (Birdie on #5), Carmen Kinas (Birdie on #16) & Elizabeth Carr (Birdie on #17).
Thank you to our Host facility, Silver Springs G&CC for two great days.