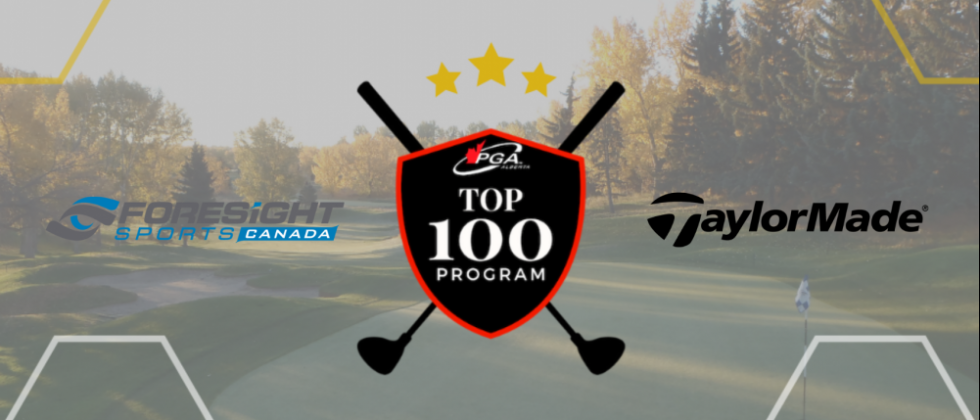 Top 100 News
PGA of Alberta Announces Top 100 Professionals of 2022
The PGA of Alberta is proud to officially announce the Top 100 PGA of Alberta Golf Professionals for 2022 as determined by the rankings in the Top 100 Program presented by Foresight Sports Canada & TaylorMade Golf Canada! The list below is the top 100 point earners for 2022 program year. These members will receive a custom Top 100 logo recognizing their accomplishment.

The Top 100 Program is based on pre-determined measurable criteria designed to recognize members who dedicate their time and demonstrate proven abilities in advancing the golf industry for the benefit of all Golf Professionals. The following areas where points are awarded are Education, Association initiatives, Tournaments and Volunteerism. Congratulations to the following Professionals (click on a name to learn more):
Top 100 Professionals 2022


Presented by





Ajeem, Mohammed


Lakeside GC



Allred, Scott


Elbow Springs GC



Anderson, Scott


Country Hills GC

Anderson, Stefan
Lakeside GC
Babkirk, Tyrel
Apple Creek GC
Belbin, Mike
Royal Mayfair GC
Boyd, Kyle
Edmonton Petroleum G&CC
Brayton, Gordon
PGA of Alberta Member
Bruce, Adam


GOLFTEC Sherwood Park

*

Bunner, Alexander -

Top 10


Belvedere G&CC
Busetto, Joseph
Edmonton Petroleum G&CC
Cammidge, Grant
Jagare Ridge GC
Carew, Geoff


Golf Traders - Edmonton

Cartier, Jacob
Glendale G&CC
Charlton, Shelley


Pinebrook G&CC

Chow, Kevin
Blackhawk GC
Chown, Braden
Bearspaw GC
Christenson, Gary
Sturgeon Valley G&CC
Cooke, Chris


Silvertip GR

Cooke, Darren
Canmore G&CC
Copeland, Josh
Wainwright GC
Crease, John
Jasper Park Lodge GC
Cuthbertson, Jeff
Stony Plain GC
DesRoche, Glen
Picture Butte GC
Donihee, Chris
PGA of Alberta Member

*

Feener, Chad -

Top 10


Leduc GC

*

Fleming, Josh -

Top 10


365 GOLF

Foote, Kurtis
Valley Ridge Golf Academy
Freeman, Matt
Canyon Meadows G&CC
Friedrick, Matthew


Brooks GC

Frose, Patrick


Royal Mayfair GC

Gillett, Weston
Lacombe G&CC
Gordon, Tiffany


Carnmoney GC

Graf, Kevin


Woodside GC

Halpen, Todd
Golfuture YYC

*

Halverson, Bryce

-

Top 10


Carnmoney GC
Hanson, Leif
Mickelson National GC
Hardy, Richard
McKenzie Meadows GC
Harrison, Michael


Coal Creek GR

*

Hartford, Gary

-

Top 10


Highlands GC
Henzie, Dave
PGA of Alberta Member
Hill, Logan
River Bend G&RA
Horton, Paul
Golf Channel Academy at
Cottonwood G&CC
Irvin, Taylor


Country Hills GC

Jeffries, Nicola
Willow Park G&CC

*

Johnson, Greg

-

Top 10


Inglewood G&CC
Johnson, Matt
Royal Mayfair GC
Johnson, Robbie
Banff Springs GC

*

Kirkness, Samuel -

Award Winner


Inglewood G&CC
Kyle, Cameron
The Ranch G&CC
Latimer, Cameron


The Winston GC

Lee, Tommy
Carnmoney GC
Leicht, Tyler
The Derrick G&WC
Locke, Eric
Priddis Greens G&CC
Lockert, Josh


Carstairs GC

Longley, Nic
Silver Springs G&CC
Luopa, Shaun
Country Hills GC
MacComb, David
Royal Mayfair GC
MacDermott, Brice
Windermere G&CC
MacDonald, Mathew
Innisfail GC
MacGregor, Jeff
Glendale G&CC
Mackey, Joshua
Windermere G&CC
Mah, Matthew
Cardiff G&CC
McCluskey, Phil
River Bend G&RA

*

McCourt, Murray

-

Top 10


The Ranch G&CC

Levi McDermott


Big Buck Golf Centre
McDermott, Ryan
Royal Mayfair GC
McKiernan, John
Academy at Golf Town - Calgary
Mills, Matthew
Douglasdale GC
Mills, Troy
Jasper Park Lodge GC
Nelson, Gina


Magrath GC

Nelson, Graeme
The Derrick G&WC
Paskin, Chris
Valley Ridge GC
Pecman, Tyler
Highlands GC
Piercey, Shaun
The Ranch G&CC
Plosz, Jason
FootJoy - Acushnet Canada
Popkes, Amy


Silver Springs G&CC

Robb, Randy
Mickelson National
Golf Academy
Rogers, Marsha


The Derrick G&WC

Rosengarten, Lisa


The Glencoe G&CC

Rutherford, Katy


Silver Springs G&CC

Scheller, J.D.
Turner Valley GC
Schubert, Gregg


The Track

*

Seifert, Matt

-

Top 10




Golfuture YYC

Stanier, Jason


Inglewood G&CC



Stiles, Scott
Earl Grey GC
Sweenie, Tahlon


Jasper Park Lodge GC

Timms, Kasey
Leduc GC
Tomlinson, Dale
The Winston GC
Valleau, Kim


The Winston GC

Van Amsterdam, Evan
Highlands GC
Van Tighem, Taylor


Highlands GC

Vandermey, Nick


Windermere G&CC

Vandermey, Spencer
Edmonton Petroleum G&CC
Werbicki, Adam
The Derrick G&WC
West, Jonathan


Carnmoney GC

Westman, Scott


The Ranch G&CC

Whitton, James
Mill Woods GC

Wilkie, Blair




Trestle Creek GR

Willner, Tyler


Lakeside GC

Wilson, John D.
Priddis Greens G&CC
Wisser, Adam


The Ranch G&CC

*

Yanitski, Stephen

-

Top 10


Valley Ridge GC

Award Winner - Samuel Kirkness (Inglewood G&CC)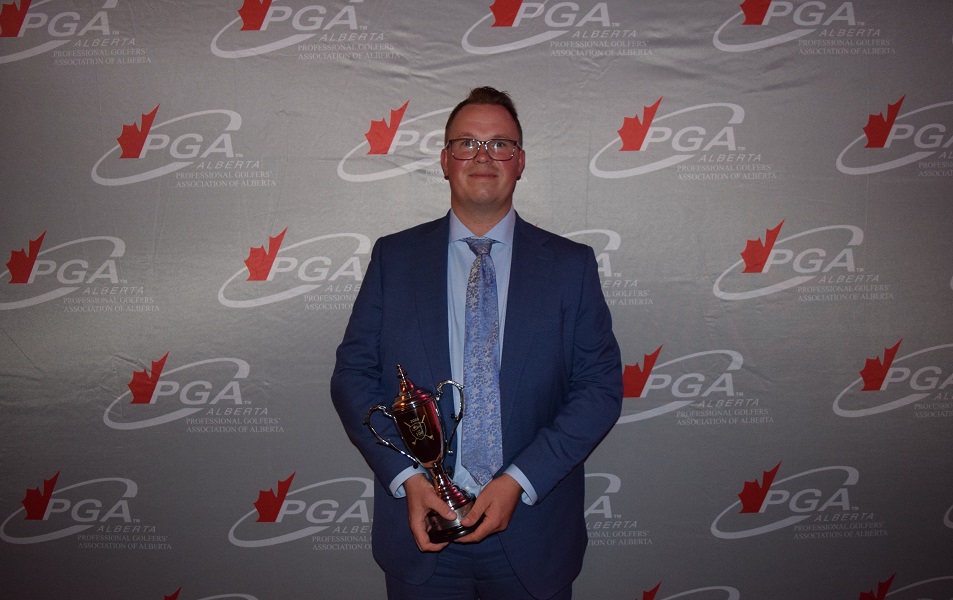 After taking over the lead late in the program year, Sam secured the trophy after accumulating 91 points total to win by 4! Sam is no stranger to being involved in the Association as he was the winner of the former Professional Development Program in 2018, the final year of the program before turning into the Top 100 Program.

As we've seen the last several years in the Top 100 Program, it was an exciting race to the very end with two other members - Greg Johnson (Inglewood G&CC) and Bryce Halverson (Carnmoney GC), finishing within 7 points of Sam to claim second and third place.

Special shout-out to the following facilities for all having multiple Professionals inside the top 20 of the program this year; Inglewood G&CC, The Ranch G&CC, Golfuture YYC and Lakeside GC.

Cash Prizes
The Association is proud to award 20 cash prizes to the top point earners in the program. Members needed to accumulate 60 points or more to earn a cheque. Click Here to see the 2022 cash prize recipients.

Cash Bonuses
In addition to the 20 cash prizes, the Association also awarded 8 cash bonuses of $100 each to the top point finisher(s) in four categories (number of cash bonuses dependent on total number of members in each category). Click Here to see the cash bonus recipients.

New for 2023 - Program Rotation Year
The Association will now use a calendar year moving forward for the program rather than the previous October to September of the following year model. For 2023, the program year will begin October 1, 2022 and go until December 31, 2023 to cover the gap of the rotation change. After that year is finish, the Top 100 Program will run from a January 1 to December 31 timeline.