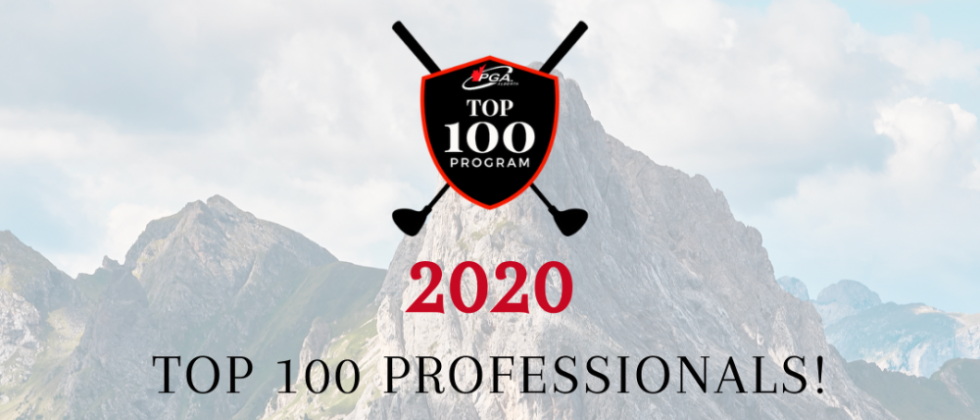 Top 100 News
PGA of Alberta Announces Top 100 Professionals for 2020
The Association is proud to recognize the Top 100 PGA of Alberta Golf Professionals for 2020 as determined by the rankings in the Top 100 Program presented by Foresight Sports Canada! The list below is the top 100 point earners for 2020 program year.
The Top 100 Program is based on a pre-determined measurable criteria designed to recognize Members who dedicate their time and demonstrate proven abilities in advancing the golf industry for the benefit of all Golf Professionals. The following areas where points are awarded are Education, Association initiatives, Tournaments and Volunteerism.

Congratulations to the following Professionals (click on a name to learn more):
Top 100 Professionals




Presented by

Anderson, Scott
Winston GC (The)
Babkirk, Tyrel
Apple Creek GC
Belbin, Mike
Royal Mayfair GC
Black, Kevin
Redwood Meadows G&CC
Borsa, Scott
Devon G&CC
Boyd, Kyle
Edmonton Petroleum G&CC
Brandt, Kyle
Derrick G&WC (The)
Bruce, Adam
Leduc GC
Buchner, Aaron
Fort McMurray GC
Bunner, Alexander
Belvedere G&CC
Busetto, Joseph
PGA of Alberta Member
Caines, Ryan
Inglewood G&CC
Carr, Glenn
Lakeside GC

*

Carter, Alan

* Top 10


Edmonton CC
Cartier, Jacob
Sturgeon Valley G&CC
Charlton, Shelley
Pinebrook G&CC
Chow, Kevin
Blackhawk GC
Christenson, Gary
Sturgeon Valley G&CC
Cook, Aaron
Edmonton CC
Cooke, Chris
Silvertip GR
Cooke, Darren
Canmore G&CC
Cox, Stefan
Calgary G&CC
Cuthbertson, Jeff
Stony Plain GC
DiPasquale, Chris


Par 3 Golf Academy at Bridge Valley Golf

Fast, Brian
Sirocco GC
Feener, Chad
Leduc GC

*

Fleming, Josh

* Top 10




GOLFTEC Calgary Beacon Heights

Fleming, Riley
Lynx Ridge GC
Foote, Kurtis
Country Hills GC
Freeman, Matt
Canyon Meadows G&CC
Fukushima, Kent
Redwood Meadows G&CC
Garbutt, Shane
Blackhawk GC
Gerlitz, Jamie
Picture Butte GC
Gillett, Weston
Lacombe G&CC
Goplin, Trevor
Derrick G&WC (The)

*

Graham, Michael

* Top 10


Cottonwood G&CC
Greiner, Tom
Calgary G&CC
Halpen, Todd
Golfuture

*

Halverson, Bryce

* Top 10


Valley Ridge GC
Hancock, Cody
Sturgeon Valley G&CC
Hartford, Gary
Highlands GC

*

Henzie, Dave

* Top 10


Nanton GC
Hill, Logan
River Bend G&RA
Hnatiw, Jason
Windermere G&CC
Horton, Paul


Golf Channel Academy @ Heritage Pointe

Irvin, Taylor
Silver Springs G&CC
Jeffries, Nicola
Springbank Links
Johnson, Greg
Inglewood G&CC
Johnson, Matt
Royal Mayfair GC
Johnson, Robert
Jasper Park Lodge GC
Karlson, Brady
Canyon Meadows G&CC
Kincade, Greg
Edmonton CC

*

Kirkness, Sam

* Top 10


Priddis Greens G&CC
Latimer, Cameron
Woodside GC
Lavallee, Jeremy
Northern Bear GC
LeBouthillier, Tyler


GOLFTEC Calgary Beacon Heights

Link, Matthew
Strathmore GC
Locke, Eric
Priddis Greens G&CC
Lukasewich, Jerry
Coal Creek GR
Luopa, Shaun
Country Hills GC
MacComb, David
Blackhawk GC
MacDermott, Brice
Windermere G&CC

*

MacGregor, Jeff

* Top 10


Glendale G&CC
Maher, Jeremy
Modern Golf
Matuch, Mike
Kananaskis Country GC
McCluskey, Phil
River Bend G&RA
McCourt, Murray
Ranch G&CC (The)
McEachern, Michael
Country Hills GC
McGarry, Greg
Glendale G&CC
McKiernan, John
HeatherGlen GC
Mills, Troy
Jasper Park Lodge GC
Murphy, Jordan
Stony Plain GC
Pacholok, Chris
PGA of Alberta Member
Paley, Bob
Kananaskis Country GC
Paskin, Chris
Valley Ridge GC
Pecman, Tyler
Highlands GC
Penfold, Carl
Earl Grey GC
Petryk, Larry
Raven Crest G&CC
Piercey, Shaun
Ranch G&CC (The)
Plosz, Jason
FootJoy - Acushnet
Quickstad, Bryn
Windermere G&CC
Robb, Randy
Edge Golf Academy
Rogers, Marsha
Derrick G&WC (The)
Schatzmann, Chris
Stewart Creek G&CC
Seifert, Matt
Earl Grey GC
Smith, Scott
Pinebrook G&CC
Stanier, Jason
Inglewood G&CC
Stiles, Scott
Earl Grey GC
Sweenie, Tahlon
Jasper Park Lodge GC
Tanner, Jeremy
Highlands GC

*

Tomlinson, Dale

* Top 10


Winston GC (The)
Valleau, Kim
Winston GC (The)
Van Deurzen, Ben
Stewart Creek G&CC
Van Kroonenburg, Ashley
PGA of Alberta
Van Tighem, Taylor
Royal Mayfair GC
Vandermey, Nick
Windermere G&CC

*

Ward, Chris

* Award Winner


Edmonton Petroleum G&CC
Werbicki, Adam
Derrick G&WC (The)
Westman, Scott
Ranch G&CC (The)
Willner, Tyler
Lakeside GC
Wilson, John D.
Priddis Greens G&CC
Wright, Andrew
Country Hills GC
Yanitski, Stephen
Valley Ridge GC
Award Winner...
Congratulations to Chris Ward of the Edmonton Petroleum G&CC on winning this year's Top 100 Award! Chris finished the program year with 104 points to win by just one point! It was a goal of Chris' this year to win the Award and he accomplished that by increasing his point total by 56 overall compared to last year, going from T-19th in the standings in 2019 to winning the title.

CLICK HERE TO WATCH CHRIS RECEIVING THE AWARD
Cash Prizes...
In addition to the Award winner, the Association is proud to award 10 cash prizes to the top point earners. Members needed to accumulate 76 points or more to earn a cheque this year. Congratulations to the following:
Professional

Points

Cash Prize

1st
Chris Ward
104

$1,300

2nd
Sean Thompson
103

$1,000

3rd
Jeff MacGregor
95

$800

4th
Josh Fleming
93

$600

T-5th
Bryce Halverson
80
$400
T-5th
Dale Tomlinson
80
$400
T-7th
Dave Henzie
79
$225
T-7th
Samuel Kirkness
79
$225
9th
Michael Graham
77
$150
10th
Alan Carter
76
$125
We look forward to an even better year for the Top 100 Program in 2021. October is when the new program year begins so stay tuned for more Top 100 news moving forward. Check out the 2020/21 Standings on the website or see where points are awarded by clicking the link below.

About Foresight Sports Canada…
Foresight Sports produces the most trusted launch monitors in the world. The Foresights Sports GCQuad and the ceiling mounted GCHawk are world leaders in launch-monitor and golf-simulator technology and software, providing forward-thinking solutions to aid instruction, club fitting, and equipment innovation.

As the most trusted launch monitor in the world, Foresight Sports has more than 10,000 launch monitors in use in retail, residential, commercial, and driving range facilities around the world. The GCQuad and the GCHawk are trusted by the leading OEM's for their indoor club fitting needs.

To learn more about the products, please visit www.foresightsports.com. For a demonstration, contact the Representative below:

Garett Jenkinson, Territory Manager
P: 403-861-0551
E: [email protected]